Description
Sleek lines, futuristic design & innovation and performance to match!
The Cavalon has redefined the benchmark for contemporary gyro design and raised it even higher with it's sleek lines and beauty of what has become arguably the standard by which all two seat side-by-side gyros will be judged into future.
Featuring unsurpassed comfort and visibility, the Cavalon has fully adjustable seating and controls, a generous luggage area and 100 liters of fuel capacity giving it a range that makes it a serious touring aircraft. Now, all Cavalons come standard with the powerful new Rotax 915 IS engine.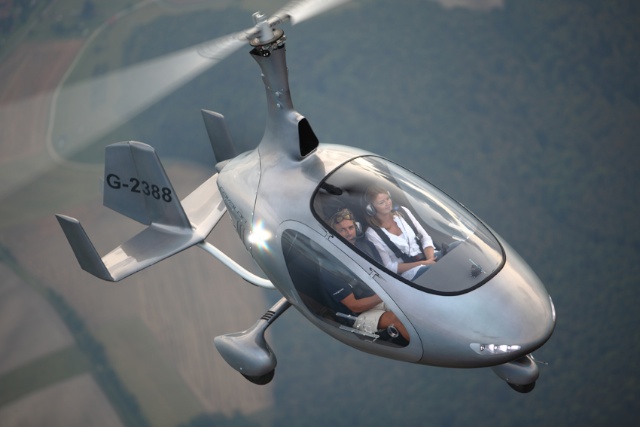 Technical Data:
Length: 4.6m
Width: 1.9m
Height: 2.8m
Rotorsystem 2, 8.4 or 8.8 m
Engine Rotax 915 IS
Cruise Speed: 85 kt
Maximum Speed: 105 kt
Max. Range: 700 km
Takeoff-Distance: 30m
Fuel Capacity 100 litres
Luggage capacity 20 kg
MTOW 500 kg

Entrancing and captivating. Whichever way you look at the Cavalon, she is a magnificent machine. From her distinctive Gull-Wing doors, to the ergonomically designed and crafted interior, it simply looks right. Generous picture windows are not only elegant in design, they are functional too, offering a stunning perspective to the viewer. Gracefully integrated Shark-Gill fin designs compliment the look with sporting and yet functional rear.

The very special, sophisticated and innovative product design of the Cavalon was now decorated with the worldwide most renowned award: the red dot award: product design. The Cavalon has stood out of 4,515 products this year and has convinced a 30-member jury. The red dot is a very special award for AutoGyro, our quality standards and our innovation, and we are very proud of holding this logo.

2013 the Cavalon received a second unique Award:
Light off – spot on: the AutoGyro Cavalon is entering the stage. After having already been awarded in 2012 with the internationally recognized red dot design award, our side by side model has just received its second prize from a highly qualified jury: the German Design Award. This award is the international premium prize of the German Design Council. This committee's goal is to award high-quality products and projects for their pioneering contributions to the German and international design landscape.